One of a common reason for lower back pain is due to a bulging disc. But what exactly is a disc?
The disc is a gel like substance that sits in between our bones in the spine, the vertebrae). These discs acts to help with: shock absorption, spinal stability and allows a more efficient movement from the spine. The discs are made up of two parts: the more elastic outer shell, which keeps the shape of the disc together, and the gel like inside.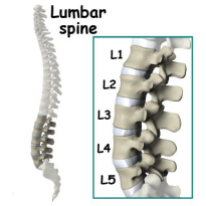 In normal movements, the disc will get compressed and extend in certain parts, depending on the movement. For example, bending forwards will result in the front part of the disc to be compressed, while the back part will be distended.
When you have a 'disc bulge', what happens is, instead of the outer elastic part keeping the disc's shape, it has protruded out (this is called Bulged Disc). Depending on the severity of the injury, the gel like content can actually seep out as well! (This is called a Herniated Disc). 
Symptoms
Apart from pain, this bulging disc may be severe enough that it touches the nearby nerve root. When this occurs, you may also experience the following symptoms: pins and needles, numbness, burning, electrical shocks as well as loss of power in your legs.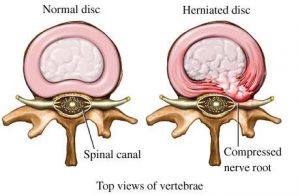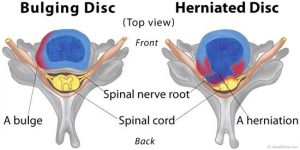 Diagnosis and Treatment
It is important that you seek a trusted physiotherapist that will be able to do a comprehensive assessment on you to get the correct diagnosis quickly. Without the right diagnosis, your treatment will be ineffective.
At Capital Physiotherapy, our initial appointment is 60 minutes, instead of the normal 20-30 minutes. This allows our physiotherapists the time to complete a full assessment so that the right treatment be implemented. The quicker your back is treated, the better your outcome is!
We are well equipped at providing you the best care to get you back on your feet. Treatments may include:
Mobilisation

Massage

Electrotherapy

Exercise prescription, including building core strength

Pilates equipment, including: reformers and Wunda Chair.