Jumping around on a trampoline is probably as close to flying as we can get without extremely sophisticated equipment. With just a few springs and a durable platform, you can easily soar over 3 meters high. As long as you stay within your skill level and mind others safety, this activity is a relatively safe past time and great way to workout. Along with all the fun, it can target many fitness components at the same time.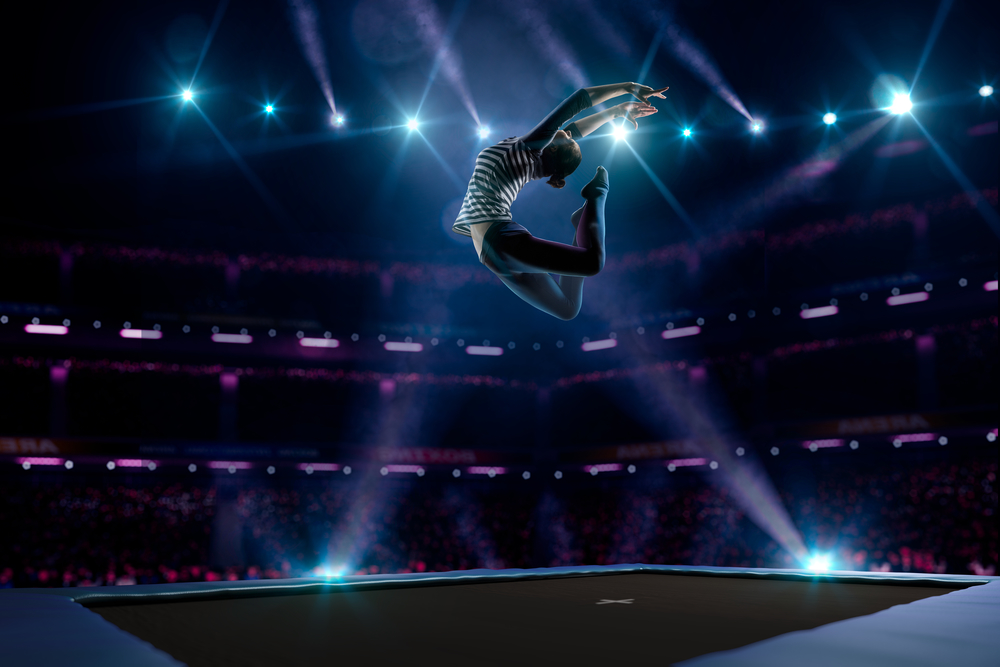 Power:
The most obvious development would be development of power, specifically in the lower limbs. It might seem as if the trampoline may be doing most of the work, but if you want to rise higher than anyone else, better put some force with the jump. The more force you use to propel yourself up, the greater development of power you with acquire especially in the calves.
Coordination and body awareness:
You've probably seen gymnasts do some crazy flips mid-air and gracefully land exactly where they began. Some can refer to this as technique and skills, I prefer to call it body awareness and coordination. To be able to perform such tumbles in the air requires much training to develop body awareness in the air. Once you get the sense of where you are in the air, it takes even more practice to be able to coordinate your limbs and trunk to complete a basic 360 spin and land on the same spot.  
Cardiovascular:
Having lots of fun bouncing around also means you lose track of time. You can easily reach a good 30 minutes of bouncing and not even realize it. By the time you do notice, your likely sweating bullets, your lower limbs are pretty sore and your 
breathing is heavy. All these are signs that you've tapped into your cardiovascular system. What better way to get the cardio going than having fun bouncing around?
Freestyle trampoline is a great way to have fun and exercise. If you are having trouble getting motivated to start exercising, give bouncing a shot and see if you enjoy it. On the flip side, sometimes it's a bit overwhelming when the person on the next trampoline is doing crazy twirls while you haven't the slightest idea of how to coordinate each bounce. If bouncing you would really like to be able to do in the future, a physiotherapist will be able to start you off with some advice and exercises.
At Capital physiotherapy, we have movement specialist that can help reduce the risk of injury during your bouncing session. We perform thorough assessment to identify the missing component in your fitness and then develop the best individualized plan to target which ever component you are need improvement: ie. balance, body awareness, coordination and cardiovascular fitness.
We are located in Footscray, Balwyn and South Yarra. If you've got any enquiries with beginning new exercises or just want to improve your performance, contact us at info@capitalphysiotherapy.com.au or 0401 865 333 to get one of our friendly physios to give you a few suggestions.