As physiotherapists, we play an important role in helping our clients recover from their transport accident injuries.
We see a range of injuries from TAC:
Fractures

Head injuries

Whiplash

Spinal injuries

Post-surgery complications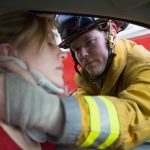 We understand that it can be traumatic period for our clients and in Capital Physiotherapy, our therapists take a holistic approach to not just treat our client's body parts but treating them as a human being, understanding their traumatic experience and how it may impact their daily activities and living.
We strive to achieve optimal recovery at the shortest time possible.
All our physiotherapist are well trained with post traumatic injuries. We provide a whole range of in-room services including dry needling, massage, and manipulation and also out of the room rehabilitation, for strength, flexibility, gait re-education and many more. We provide a range of individualise rehabilitation program and equipment, to help our clients get back their wellness and start enjoying their lives again!
We believe in early intervention to maximise return to work and health outcomes.
We are a fully bulk bill clinic for ALL TAC clients which means there will be NO OUT OF POCKET FEE for any of the TAC clients with both the physiotherapy sessions and equipment needed to for their rehab.
If you are under TAC and require physiotherapy attention, please do not hesitate to contact us at 0401 865 333 or email us at info@capitalphysiotherapy.com.au.