A lot of people come into our rooms at Capital Physiotherapy with knee pains. Specifically, pain around the front of their knees. There are a few structures in this area of the knee, but we will be discussing about the patella tendon. The tendon is a part of the quadriceps muscle. The quads originates from the pelvis and inserts into the upper part of the patella. From here, the patella tendon starts and finishes at the ischial tuberosity, located in the tibia (lower leg).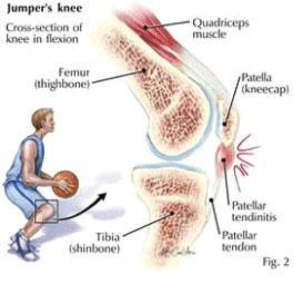 The patella tendon is important as it is part of a pulley system for the quadriceps muscle. This adds leverage and consequently power to the quadriceps muscle. This will allow you to do intensive activities, such as jumping and sprinting. In saying this, you can imagine how much stress is placed on the tendon! In fact, the most common cause of patella tendinopathy are jumping and sprinting based sports.
This stress can cause issues in the tendon which will then lead to pain and subsequently, reduction in your activities! When stress is placed on a tendon, there are some micro tears, which heals when you look after the body. However, if you continually place the load on your tendon over a prolonged period of time, there is more aggravation than healing; resulting in pain.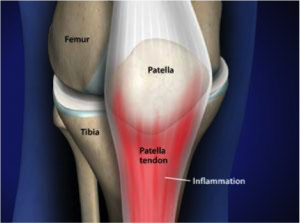 Usually, people will come in not knowing what's causing the pain in their knees. This is because the pain would only come gradually. The pain would initially be described as an ache, but as physical activity continues, the pain becomes sharper, until finally you have to stop your sport.
Our physios at Capital Physiotherapy are well experienced with knee pains. While it's important to get rid of the pain so that you can go back to your physical activity, what is equally important is finding the exact cause of the problem in the first place. During your consultation, our physio will spend their time 1-on-1 with you, to make sure they understand not just your body, but your training routine. They will develop a treatment plan that will not only get you pain-free, but also ensuring you do not have the same problem again.
So don't hesitate, and get that knee looked after now. The sooner you get the knee looked after by our physios at Capital Physiotherapy, the better your prognosis and the quicker you'll get back to your game!