There's lots of ways that the back can be injured. We've covered one condition that is relatively common one, which would be the bulging disk . Now let's go over another condition, only not as common in everyday life activities: spondylolisthesis.
This word is a bit of a mouth full and it does describe something a tad more rare than the disk bulge. Let us first review some basic anatomy of the spine. The spine is made up of various segments called vertebra and each vertebra has a body and a tail portion. In spondylolisthesis, there is a fracture of a specific tail portion of your vertebrae called the "pars interarticularis". Due to this fracture, the stability of the spine becomes compromised and a section of the spine can slip forward.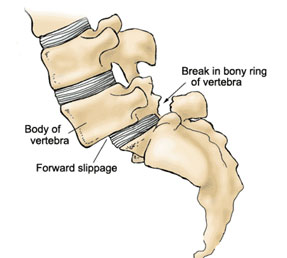 With this forward shift, lots of things can cause pain, including the disk between the vertebrae, the bones itself and even the nerves that come out the side. If the nerves are not involved, the pain would likely stay that the back. If the nerves are indeed affected, you can have various neurological symptoms like numbness and tingling down the leg.
Fracturing this part of your vertebrae is pretty difficult. The most common occurrence of this condition with be in dancing. This is because most dancers are required to arch their back while performing high impact jumping type movements. The combination of both movements causes much stress on the tail portion of the vertebrae, therefore placing dancers at a higher chance of getting this injury.
As common as back injuries are, diagnosing the exact structures can be rather difficult. If you have any issues with your back, it's a good idea to get a professional to have a closer look and make sure everything is okay. At Capital physiotherapy, we have physios who have plenty of experience with identifying the correct treatment for back injuries. If you're in the neighbourhood near our clinics located in Balwyn, Footscray and South Yarra, book with one of our friendly physiotherapist by emailing us at info@capitalphysiotherapy.com.au to get you back to the activities you love.