Professional athletes and everyday recreational sportsmen are often out of action when injuries happen.  Bracing and taping are great tools to assist recovery of the damaged structures, or to support movement in certain positions so we can continue to exercise.  Some also use them as an injury prevention measure. There is an extensive variety of braces and many different taping techniques sports physios use. Let's have a look at the pros and cons you know when to use either of these tools.
Bracing
Bracing is an external device applied to a joint by restricting movement and hence stabilising the joint.  It comes in different sizes. A well-fitted brace can reduce pain by keeping the injured structures out of the painful range of motion. There are also different materials of braces available depending on the stability required: the fabric ones are softer, permitting more movement while the other ones are more rigid.   
Pros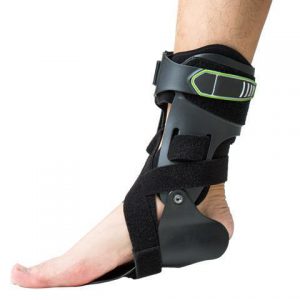 Easy application and removal

Re-usable and cost effective

Provides significant support for return to play/ assist recovery/ pain relief
Cons
Requires regular cleaning especially when being worn for long hours

Bulky when compared to taping, especially for larger joints

Long term application can result in muscle weakness when injured structures rely on braces for stability
Taping
There are broadly two types of tape that are widely used by sports physio: rigid and kinesio tape.  Rigid tape, as the name suggests, enhances rigidity of joints. It stabilises joints by being applied to weakened injured structures such as a sprained ligament.  Kinesiotape is stretchy and it facilitates muscle movement to rehabilitate for injuries.
Pros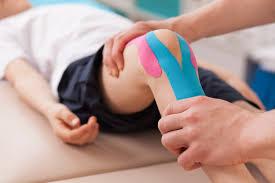 Not as bulky as braces and is easier to move around/ play sports with

Cheaper than braces

No sizing required and gives very customised fit to provide optimal support when applied appropriately

Kinesiotape tape can facilitate muscle activation
Cons
Material and glue may irritate skin

Needs frequent re-application if long term support is required

Non-reusable therefore if required for long term can be costly

Requires someone else (e.g. a sports physio) to apply for you (unless you have practised a dozen times although will still be awkward)

Can be painful to remove and may leave glue marks (and hairless patches for the hairy ones)
If you suffer from any acute or old injuries and would like to explore the options of taping or bracing to get yourself active and moving, feel free to contact our friendly team at Capital Physiotherapy.