With the Corona virus (COVID-19) outbreak, many have been sent home for work or, for those who have just returned from overseas, had to self-quarantine for two week.  If you are thinking this is bad news to your active routine, fear not! Bodyweight exercise has extensive benefits and you may find more exercise equipment aka furniture, canned food and wine bottles than you think you possess.
In the coming three blogs, we will go through some ideas for three different types of work out recommended by our physios for your home-bound time: Cardiovascular, resistance/ strength training and last but certainly not the least, mobility and flexibility.
According to the Australia's Physical Activity and Sedentary Behaviour Guidelines, adults are recommended to accumulate 150-300 hours of moderate intensity physical activity or 75-150 minutes of vigorous intensity physical activity.  Physical activity includes any incidental/ recreational sports and 'bodily movement produced by one or more large muscles groups. The intensity depends on the effort where you can remain conversational in 'moderate' intensity activities but much more puffing and panting when you are engaging in 'vigorous' activities.
Here is a general cardiovascular workout that is apartment/small-space friendly.  Our physiotherapists understand that some of you may have injuries and therefore have included lower impact options for you. You will be starting with two exercises to warm up your range of motion. Following that there will be five exercises that you can repeat for three to four rounds.  The full workout should be 
Warm up 1 – Squat One Arm Touchdown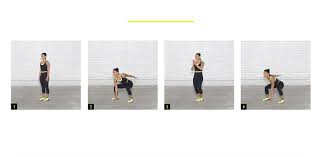 To start the warm up, do a squat and touchdown with one arm.  Alternating the arm touching down to encourage rotation in the chest and mid back while the squats warm up joints in both of your legs.

1 minute, start slowly and pick up the pace as you warm up
Warm up 2 – Lunge Punch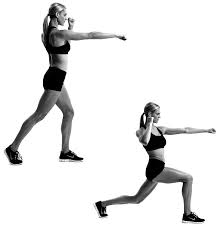 This warms up the arms and engages more hip range of motion 

1 minute
By this time your heart rate should pick up and we can get into the exercises.
Exercise 1 – Chair step up and down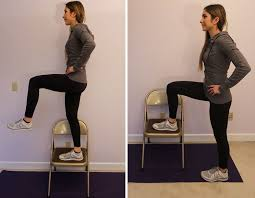 Find a sturdy chair and put it against the wall

Step up then lift the other leg up into a knee thrust

30seconds one side, 30seconds another side
Exercise 2 – Jump squats or squats wide leg lift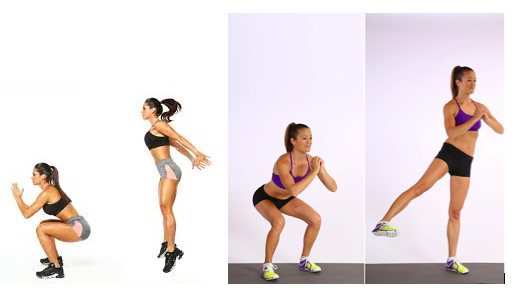 If you are not ready yet to take flight and jump, simply come up from a squat and lift one leg up.  Alternating the leg lift every time you ascend from a squat position

Do this for 45 seconds
Exercise 3 – Lunge twist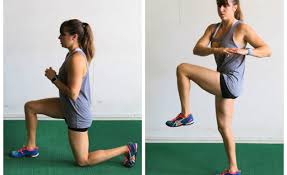 From a lunge position lift one leg up and twist towards the knee.  If you would like more intensity, jump with the other leg as you drive your knee up

30 seconds each side
Exercise 4 – Plank side step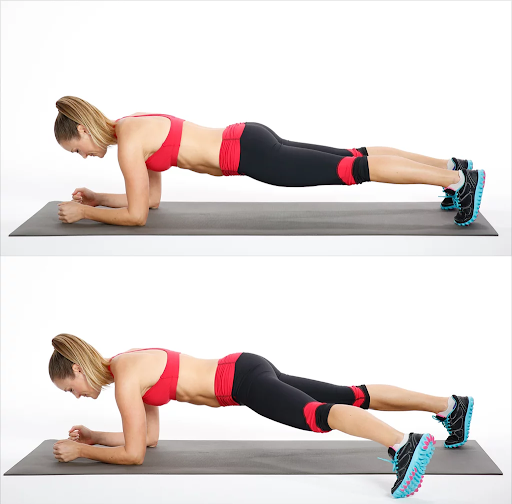 Engaging your core throughout, tap one leg to the side alternatively.

45 seconds
Exercise 5 – Star jumps/ star steps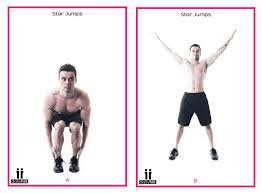 Bend down to sit in the invisible chair then extend your arms and legs as far as you can

If you are after a higher intensity version, jump up from the squat position and extend out like a star in the air

45secs
This is just a general workout that may need modifications if you have any current or previous injuries.  Capital physiotherapy is working to ensure our clients remain active during this difficult time. Our physiotherapists are now available to provide telehealth service if you need any physiotherapy advice on maintaining your fitness level at home or managing your injuries at home.  Give us a call on 0401 865 333 or drop an email at info@capitalphysiotherapy.com.au to enquire for more.