The knee joint is a relatively complex joint with multiple structures that works together to provide both stability and movement in the knee joint. A part of the knee that is quite commonly injured is the meniscus. This is an injury that Luke Hodge had back in May 2016.
The meniscus are 2 structures within the knee joint. As you can see from the picture, you have a Medial Meniscus and a Lateral Meniscus, both shaped in a circular fashion.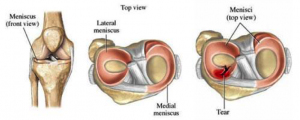 These structures has a few important functions within the knee joint. The most important function is they act as shock absorbers and load distributor. They are sponges that reduce the stress going through the bones; thereby reducing wear and tear in the joint.
The meniscus can be injured in several ways. Injury to the meniscus can be due to a gradual build of stress, which may occur with repeated or prolonged squatting/kneeling. An athlete may also injure their meniscus if they try to turn/pivot on their knees too quickly; this will result in a partial or a total tear.
Once a tear has occurred, it is important that the knee is assessed to find out how severe the injury is. Depending on the severity, a period of conservative management may be enough to get you back playing your sport. However, more serious injury such as the 'bucket handle tear', may require you to undergo an arthroscopy. In saying this, if you have a knee injury, come visit us at Capital Physiotherapy. Our physiotherapists have a lot of experience dealing with these types of injury. They will spend the time with you to make sure they get the right diagnosis as well as give you the correct treatment plan that you need to get better quickly!
So don't hesitate, and get that knee looked after now. Capital Physiotherapy is ready to help you!