What is scapula winging?
Scapula winging is when the borders of the scapula (shoulder blade) stick out away from the ribcage. Normally the scapula is meant to lie flat against the rib-cage. Scapula winging usually results from muscle imbalances of the muscles attaching to the scapula. Imbalances commonly occur between the pectoralis minor, upper trapezius, lower trapezius and serratus anterior muscles.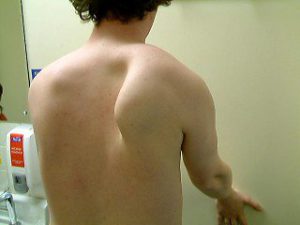 Consequences of scapula winging:
Scapula winging can result in inefficient movement of the glenohumeral (shoulder) joint. The scapula and shoulder joint are connected. If the resting position and movements of the scapula are not in optimum position, it can lead to restricted movements of the shoulder joint. This in turn can lead to impingement of the rotator cuff tendons and associated pain and dysfunction.
Weakness of the cervicothoracic postural muscles and subsequent scapula winging can also lead cause increased tension and pain in the muscles between the shoulder blades and the muscles attaching from the scapula to the neck. This in turn can lead to joint stiffness and potentially tension-headaches in more severe cases.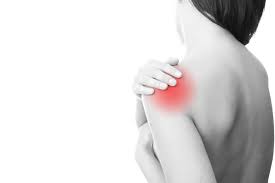 How can Capital Physiotherapy help reduce scapula winging?
After thorough assessment to determine which muscles are contributing to the winging scapula, our physiotherapists may use a variety of different treatment to try and relieve symptoms associated with scapula winging and reduce the winging itself.
Treatment options include:
Postural education and correction
Postural taping
Massage to relieve tension of tight muscles
Dry needling to relieve muscle pain and tightness
Muscle strengthening and re-training to correct muscle-imbalances causing the winging
EMG activation prior to strengthening to help activate muscles that have difficulty firing due to altered neuromuscular activation patterns
If you like our video please do like, subscribe and
Follow us at:
https://www.facebook.com/CapitalPhysi…
https://www.instagram.com/capital.phy…