Osteitis pubis is the inflammation of the pubic symphysis and surrounding muscle insertions. It is an overuse syndrome caused by repeated trauma, rather than a one-time specific incident that results in groin pain and can become chronic in nature.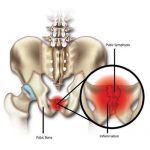 The main cause is from instability of the hip bones, especially at the pubic symphysis, and poor movement control between the lower back and the pelvis. This could be from uneven loading through the pelvis during activities like running and kicking sports. It is not uncommon for athletes to have experienced groin strains or low back pain in the past as well.
Signs and symptoms
Ache in groin over time (one or both sides)

May be felt in lower abdominals or front of hip

Running, kicking, sit ups, change in direction can lead to pain onset

Stiffness in groin

Limping or a waddle type walk due to pain
Potential contributing factors to look out for
Poor posture (foot and back)

Inadequate training/warm up

Muscle imbalance, tightness or weakness in lower limbs

Inadequate rehab post previous adductor injury 

Poor pelvic and core control and stability

Changes in training routine (sudden increase or change in condition/surfaces)
Role of physiotherapy
Physiotherapy is able to give a full and proper assessment to determine what exactly is causing this condition, and to provide self-managing advice so that you can take control of your condition, especially controlling the inflammation prior to commencing a specialized exercise program that is suitable for you!
Rehabilitation with a tailored exercise program given by your physiotherapist is the best way of managing the symptoms and recovery. Physiotherapy is essential in not just fixing the acute issue, but also to prevent recurring injuries. A graduated specific program given by your physiotherapist for flexibility, core stability and strength is key in correcting movement technique and for safe and successful return to sports and daily activity without symptoms. 
If you have concerns about osteitis pubis or are already showing signs/symptoms regarding groin or inner thigh pain and want more information, come see us at Capital Physiotherapy for early management and rehab! We are conveniently located at South Yarra, Balwyn and Footscray. Contact us today via email info@capitalphysiotherap.com.au or call 0401 865 333.